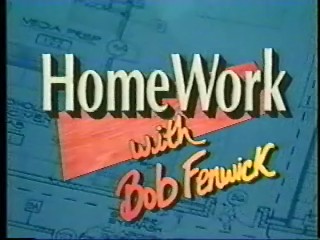 Now you don't have to wait until Saturday morning to see your favorite home improvement show and hope that's it's either one you haven't seen before or one that's relevant to a job you have in mind. Just click on the videos at the bottom to see short video clips of household maintenance tips, home improvement jobs, interesting construction techniques or just parts of a house where no owner has ever gone before! Morning, noon or night - any time of the week when you have the time - just click.
Gleaned from service calls from South Carolina north to Maryland and Virginia west to Tennessee, these clips are a few of the interesting challenges I work on day in and day out and you will find them educational and informative - I guarantee it or your money back! And I will continually update the site as I come across interesting jobs.
BEFORE YOU DIG! http://www.missutility.net/ OR http://www.missutilityofvirginia.com/
E-mail comments, suggestions, criticisms, whatever, to bfenwick@mindspring.com. I'm a big boy so you can be brutally honest. Just don't forget - I know where you live. And keep it constructive. It might just end up on the site.
WANTED! Location of genuine American Chestnut trees (not Chinese-American hybrids or Chinese chestnut trees) 25 - 30 years old or as tall as a two story house. If they survived to that age they should have some resistance to the blight. I know they're out there! American Chestnut Foundation. www.acf.org
COMING ATTRACTIONS! The millions of viewers of PBS and PAX TV who waited breathlessly for the latest installment of "HomeWork with Bob Fenwick" will have to wait no longer. We will soon be posting the shows on this site.
OTHER PROJECTS: The first Christmas novel written for the Internet: http://www.santas-little-helper.com
www.SaveMcIntire.com A web site dedicated to saving McIntire Park from development.
IMPORTANT INFO ON RADON MITIGATION STANDARDS: On April 28, 2006, EPA retired the Radon Mitigation Standard (RMS). EPA now recommends the Standard Practice for Installing Radon Mitigation Systems in Existing Low-Rise Residential Buildings for residential radon mitigation. This standard was developed and issued by the American Society for Testing and Materials International, and is identified as ASTM E-2121. A free copy of the ASTM E-2121 is available from EPA's National Service Center for Environmental Publications http://yosemite.epa.gov/ncepihom/nsCatalog.nsf/SearchPubs?OpenForm. If your computer won't hit that page call 1-800-438-4318.
Most days construction guys hang out around the used tool bin at the local plumbing supply house early in the morning trading the latest jokes with their chums. Here's a few of the latest side splitters - or pants splitters if they're plumbers. These jokes are probably from "Women's Day" but these guys wouldn't be caught dead admitting that.
Henry, the carpenter, was placed against the wall, and just before the order to shoot was given, he yelled out "Earthquake!" The firing squad panicked. In the confusion Henry jumped over the wall and escaped. Charlie, the electrician, was next and while the firing squad reassembled, he pondered what Henry had done. Before they could shoot he shouted "Tornado!" Again, the squad scattered and Charlie slipped away to safety. Last in line was George, the plumber. He thought, 'I see the pattern here. Just scream out a disaster and hop over the wall.' As the firing squad raised their rifles and took aim, George grinned smugly and yelled, "Fire!"
Hal's handyman wasn't the swiftest guy on earth. But he was cheap, and so was Hal, which is why he hired the guy to paint his porch for $50. "You tightwad!" scolded Hal's wife. "Our porch covers half the house! He'll be there for days." Hal simply smirked. An hour later there was a knock at the door. The handyman had finished. "How did you get done so quickly?" Hal asked. "It was a piece of cake," the handyman replied. "Oh, and it's a Ferrari, not a Porsche."
As he hammered siding onto the house, Clem would reach into his nail pouch, pull out a nail, and then either toss it away or pound it into the siding. "Hey, Clem. Why are you throwing those nails away?" yelled Lem, the foreman. "If I pull a nail out of my pouch and it's pointed toward the house, then I nail it into the siding," said Clem. "If it's pointed towards me, I throw it away 'cause it's defective." "You knucklehead," yelled Lem. "The nails pointed towards you aren't defective. They're for the other side of the house!"
SERVICES OFFERED BY FENWICK CONSTRUCTION
901 E. Jefferson St., Charlottesville, VA 22902, phone cell 434-981-2298
GENERAL CONTRACTING, VA CLASS A LICENSE #13681
EPA CERTIFIED LEAD RENOVATOR
NATIONAL RADON PROFICIENCY PROGRAM RADON MITIGATION CERTIFICATION #100017
NATIONAL RADON SAFETY BOARD RADON MITIGATION CERTIFICATION #G356
IICRC CERTIFIED MOLD REMEDIATION CONTRACTOR #83016
PRE-SALE PREP TO MAXIMIZE SALES POTENTIAL
EXPERT WITNESS SERVICES TO RESOLVE CONSTRUCTION OR PRODUCT LIABILITY DISPUTES; COURT OR TRIAL TESTIMONY WITH AN EMPHASIS ON VISUAL TESTIMONY
RADON MITIGATION, LINK FOR INFORMATION FROM EPA http://www.epa.gov/radon/
MOLD, MILDEW REMEDIATION, LINK FOR INFORMATION FROM EPA http://www.epa.gov/mold/
Cleaning and Disinfecting Covid - 19, Coronavirus (SARS-CoV4)
BASEMENT/CRAWL SPACE MOISTURE CONTROL
PRESENTATIONS TO SALES MEETINGS, GARDEN CLUBS, CHURCH OR SOCIAL CLUBS ON RADON, MOLD OR GENERAL CONSTRUCTION TOPICS (NO CHARGE)
VIDEO PRODUCTIONS FOR REAL ESTATE PROFESSIONALS PREPARED TO SEND BY E-MAIL OR CD. GREAT FOR OUT-OF-TOWNERS TO PREVIEW PROPERTIES OR WINNOW DOWN A LIST.
All content on this site copyright, 2004 thru 2020, Bob Fenwick
Section below is under construction.
Below will be 6 - 8 short videos (3 - 5 minutes) that will save a homeowner, rental manager, or tenant up to $40,000 and a ton of aggravation. This sounds preposterous even to me with over 50 years in construction contracting but check out one or two and you'll see what I mean. These either save you a fortune replacing an entire mechanical system, save on your utility bills or increase the life of the appliance. Virtually any occupant can do these simple solutions or at least give a contractor or handyman focused directions not to mention several will provide a reasonable path to fixing nagging problems in and around your house. I will add short videos to illustrate each of them as time permits.
The genesis for this effort came from a recent call from an elderly woman in her early eighties who lived alone. During the conversation she mentioned she had just replaced her heating/air conditioning system and reroofed her house which made her financial position very precarious. As she spoke I couldn't help but wonder if a second opinion could have saved her tens of thousands of dollars. So here are my thoughts.
#1 Roof leaks usually indicated by ceiling stains. A new roof will cost anywhere from $5,000 to $15,000. Plumbing vent collars cost $10.
#2 Whole house air conditioners or heat pumps (with outside compressor). New unit $7,000 to $12,000. Replacement of capacitor on outside compressor unit, $30.
#3 Cleaning whole house air conditioners or heat pump compressor fins or coils. New unit $6,000 to $8,000, Clean heat transfer fins with a garden hose. $5.00
#4 Kitchen refrigerators - residential, commercial, industrial - anything with cooling coils or fins. New refrig $2,000 to who knows what? Use of household vac, $4.00 Refrigerator Coils
#5 Remediation or Mitigation of mold/mildew in crawl space, basement, slab, etc. 'Encapsulation' System $7,000 to $12,500. Power ventilation system usually maxes out at $2,000.
#6 Filters, usually on your whole house heat/air system. If the house filter is black this usually means it has been overwhelmed by greasy cooking vapors or the oven exhaust is not vented to the outside. If the filter is grey with an obvious buildup of particles you just need to replace the filter.
#7 Slow drains, particularly in bathroom sinks and tubs or tub showers. Service call, up to $400.......yellow saw tooth flexible wand.....$10.
#8 Pour grease down a kitchen sink? Slow or leaking kitchen drains? Out of sight....ought of mind? Not exactly.....more like 'out of sight, stuck in the pipe'. Service call....lucky if you're under $400.
2 Crawl Spaces Vented Crawl Space at 17* Outside Air Temperature
Entrapped Moisture behind Encapsulation Mold Remediation, Power Vent or Encapsulation?
Hole in the slab Drainage and Ants
Water Under House Encapsulation and Termites
Standing Water Under the Basement Slab Sub Slab Ventilation
Encapsulation, Disassemble Attic Moisture Condensation
Basement Flood (Minor) Encapsulation Disassemble
Encapsulation - not a big fan Water and High Humidity in Crawl Space
Air Infiltration from Crawl Space